Not too long ago, our family embarked on a monumental road trip, covering more than 10,000 miles in a Pontiac Vibe over the course of two and a half months. We stayed in campgrounds. We never made reservations. We cooked all our meals over a fire or a little camp stove. We had a blast! For some reason I've never written about our very favorite campground destination. Maybe I wanted to keep it for myself for a while before I shared it with all of you. But the time has come, and the magical place I want to share with you is Cathedral Gorge State Park.
We discovered this illustrious valley quite by accident. The sun was setting, and we had yet to decide on a place to sleep. We passed a very nondescript sign for Cathedral Gorge, and decided to give it a go. As we drove down the narrow, winding road toward the park, we felt like we were entering another world entirely. Spires of soft, bentonite clay rose out of the desert, and seemed to go on for miles and miles. Surrounding the gorge was a land of sprawling sagebrush, and in the middle of that – a tiny oasis of activity. Otherwise known as the campground.
Camping at Cathedral Gorge State Park
With just 22 campsites scattered among the park's only stand of trees, I thought we would be pretty lucky to find a site, but it turns out that the place was pretty empty, except of course, for the birds and jackrabbits. The birds were singing and flitting around from the moment we arrived, and we learned later that the little campground is a mecca for birders. I love birds, but I can scarcely tell a sparrow from a warbler. The songs they sang to us that evening, though, were an absolute treat. The jackrabbits were everywhere, and unlike our little cottontail rabbits back east, these guys and gals weren't at all skittish. They loved watching us and would bounce a few steps away when startled.
The campground at Cathedral Gorge is beautiful, with lush plantings, shaded pavilions, and private campsites. Trails snake through the desert and sagebrush toward the gorge, where we'll take you in a minute. First a few tips about camping at Cathedral Gorge.
The park and campground are open year-round. Electrical hook-ups are available for an extra fee. The bath house is really clean and has hot showers.
You can't reserve a site, but from what we could see, you don't really need to.
You can camp here for up to 14 days at a time.
There are two handicapped-accessible sites and a large group area.
The night sky is one of the most outstanding features of Cathedral Gorge. It's incomparable, especially for someone from the east coast of America.
Like most of the state, it gets really hot here in the summer. My advice – spend your evenings hiking, your nights paying homage to the Universe, and your days chillin' out in your tent.
Exploring Cathedral Gorge
The gorge is a short hike from the campground. You'll pass through low-growing plant communities which consist of white sage, four-winged saltbush, barberry sagebrush, and greasewood, plus a few others that I couldn't identify. Because the ecosystem here is quite fragile, there are signs asking you to stay on the trail. Cathedral Gorge consists of incredible spires reaching toward the heavens, and forming cave-like formations that just beg to be explored. It's like an elaborate labyrinth – perfect for games of hide-and-seek.
Looks like we weren't the only ones smitten with the allure of the towering cathedrals. We found this litter of kit foxes playing among the gorge. They weren't a bit startled by our presence – in fact they were incredibly curious about us.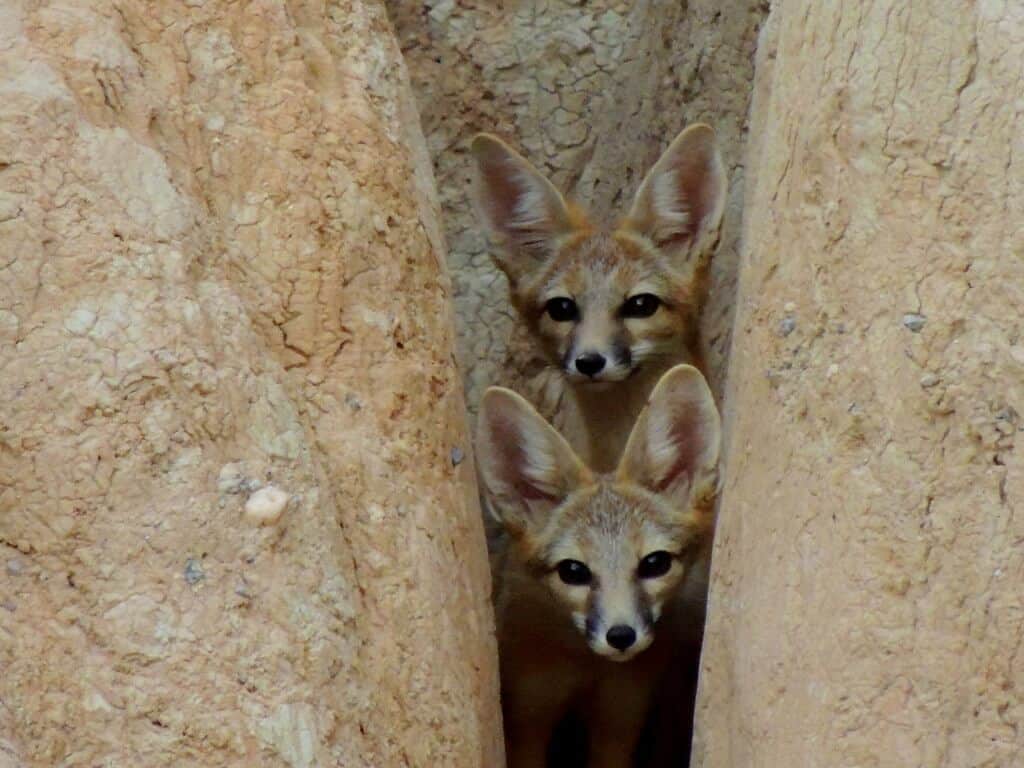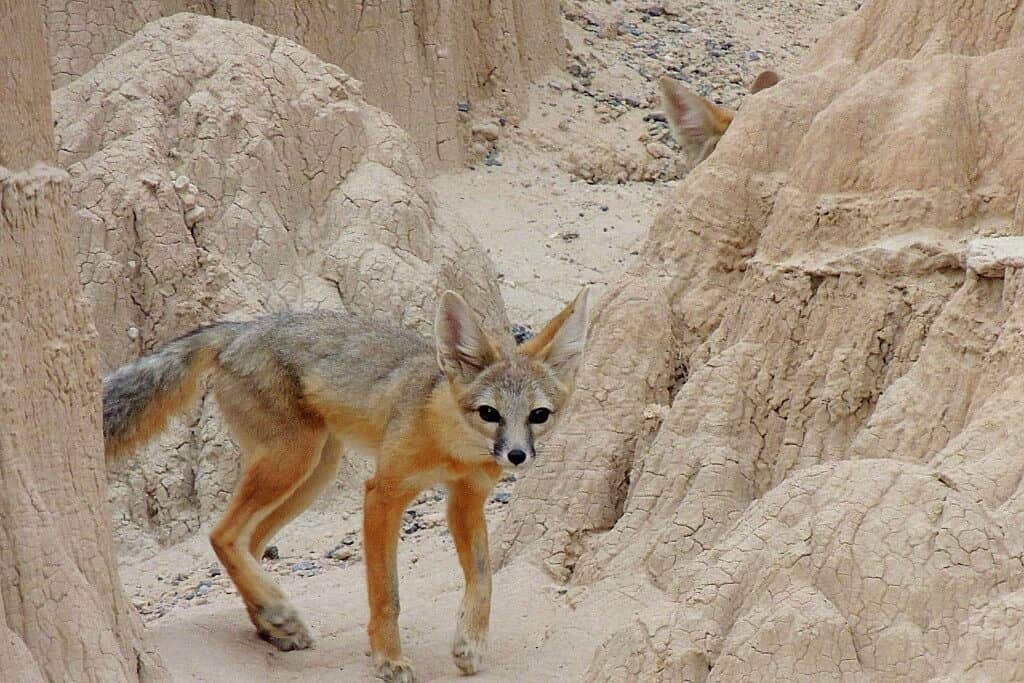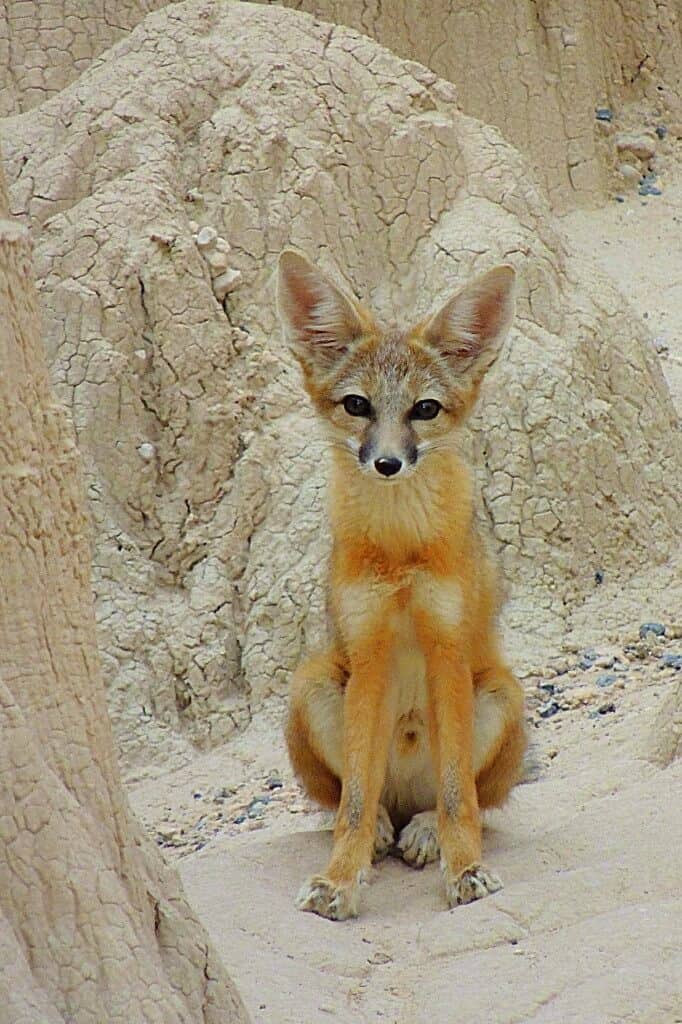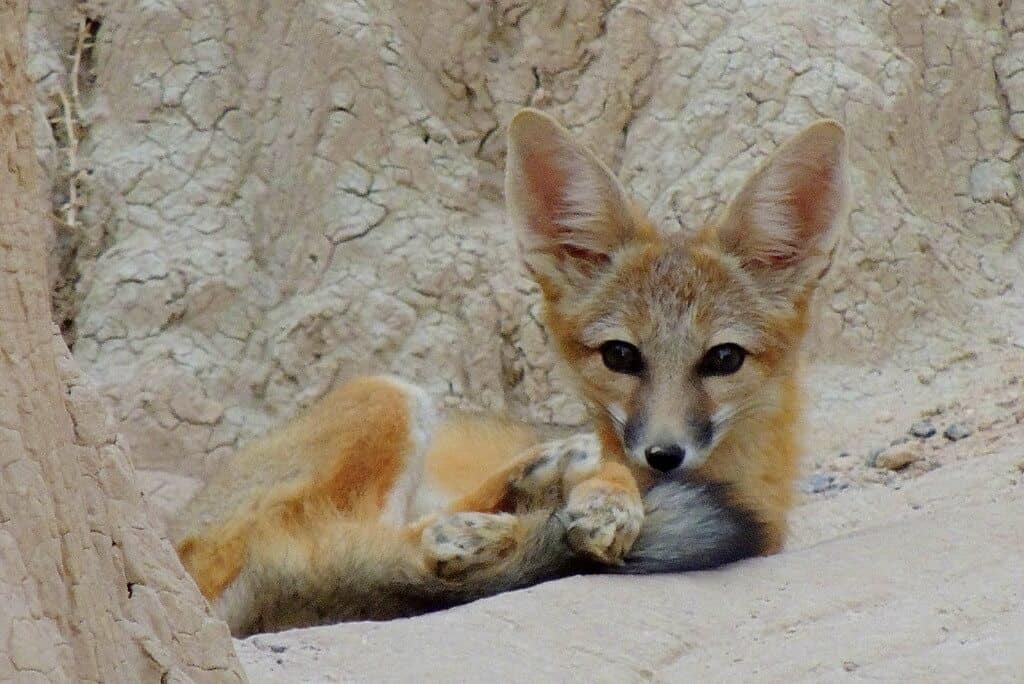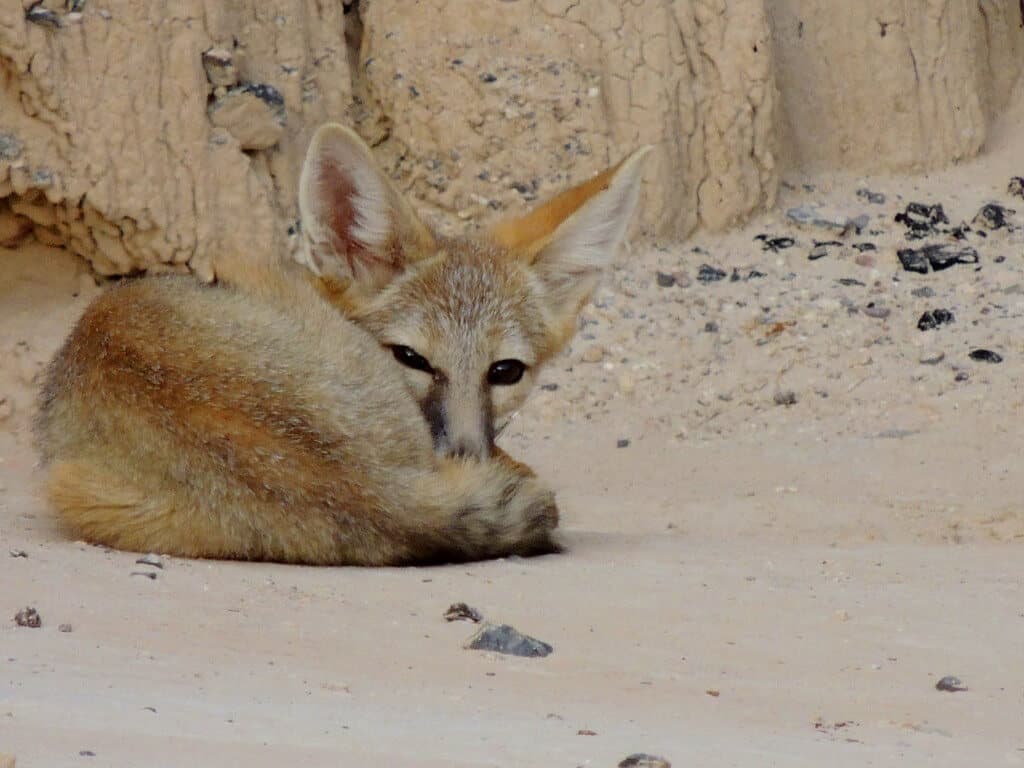 After exploring the gorge a bit, you can hike a four-mile loop trail that starts at the campground and circles through the desert, around the gorge, and out to a spectacular overlook. This is a great early morning or evening hike, especially if you're hoping to catch glimpses of the abundant wildlife.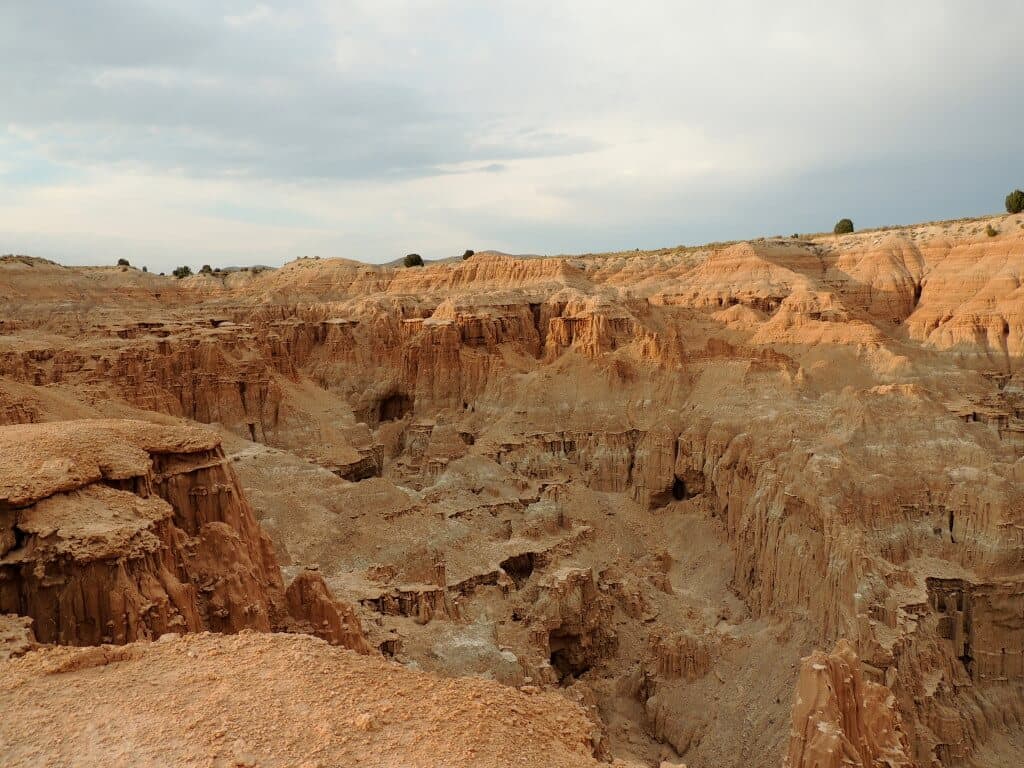 The view from the overlook.
Seriously, friends, this was one of the highlights of a humongous road trip. It's small and really quiet, but perfect for a weekend getaway, and just as lovely if you're only passing through. Make Cathedral Gorge State Park a priority on your next road trip, and say hello to our friends the jackrabbits.
Today I'm linking up with Jen and a group of really talented photographers and bloggers as part of Photo Friday on Pierced Wonderings. I'm also linking up with Walking On Travels as part of the Friday Postcards Series. Please show your support by visiting these amazing blogs!
And for the fine folks on Pinterest: